Clarks Kid's Shoe Fairies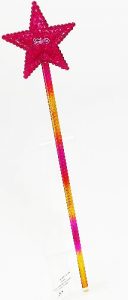 A success story in handling a multi-market product compliance:
Global promotion to support the launch of kid's shoe range – Shoe Fairies.  'A pretty, glitter, girly wand was required as a gift with purchase'.
Considerations:
A toy to be delivered to different markets outside of the EU, requiring a range of different testing and labelling for each country.  The Sourcing Team managed all testing, compliance sign off and bespoke labelling including translation for the Clarks Kid's Shoe Fairies campaign.
Distribution markets included:
Australia, Bahrain, Kuwait, Qatar, UAE and UK
For help with your campaigns get in touch here we'd love to help you deliver your campaign objectives!