It is so hard for organisations let alone consumers to make any sense of the wide range of labels and initiatives on the environmental performance of products and companies. There are more than 200 environmental labels in the EU, and more than 450 active worldwide as well as more than 80 widely used reporting programmes and methods for carbon emissions. Some of these methods and initiatives are reliable but some are not but generally it is really tricky to compare like with like and this lack of clarity doesn't reassure the market.
Sadly, the issue of greenwashing where companies give a false impression of their environmental impact not only misleads consumers, but it does not give credit to those companies that are making real effort to green their products and activities. And this ultimately leads to a less green economy.
The EUs' proposals to reduce net greenhouse gas emissions by at least 55% by 2030 include a focus on the European Green Deal, which states 'Companies making 'green claims' should substantiate these against a standard methodology to assess their impact on the environment'.
It also requires companies to substantiate their claims using 'Product and Organisation Environmental Footprint' methods so environmental performance is reliable, comparable and verifiable across the EU. This in turn allows everyone to make greener decisions.
When a manufactured develops an innovative 'green' product the challenge is then to prove it – long production supply chains can be difficult to track and trace all the way down the chain.
One company tracing the supply chain journey of green products via blockchain is Covalent. Covalent, owned by Newlight Technologies, is a new fashion brand using carbon-negative materials in its line of accessories such as sunglasses, handbags and wallets.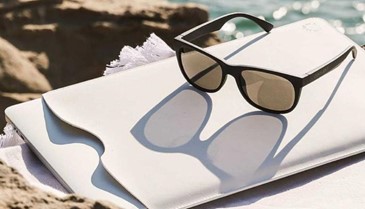 The products are made out of AirCarbon, a biomaterial made out of greenhouse gases and intended as a substitute for fibre, leather and, most of all, synthetic plastic. Consisting of microorganisms and meltable into a variety of solid forms, it is carbon-negative — meaning that its production captures or destroys more carbon dioxide than was emitted to make it.
Newlight spent some 10 years building AirCarbon from idea to scaled production but when it came to getting the message out there wasn't a way for consumers to verify what they were saying.
So Newlight teamed up with IBM, who was already well along in the development of blockchain for other sectors, to create a blockchain that tracks and verifies the positive environmental impact of its products. It was able to assign each of Covalent's products a blockchain-based number that could be used to display every step in the production process, along with third-party verification of the item's carbon impact.
A unique 12-digit number is printed in each Covalent product, showing the precise time at which AirCarbon was used in production of the item. That number is then entered into Covalent's website, providing customers with the story of the product's entire supply-chain journey, from initial moulding to store shelf.
Read more about Covalent and IBM blockchain
Another company that has been looking at tracking is the Dutch clean-tech start-up AWARE™.  provides sustainable claim validation and impact reduction claims by combining tracer and blockchain technology.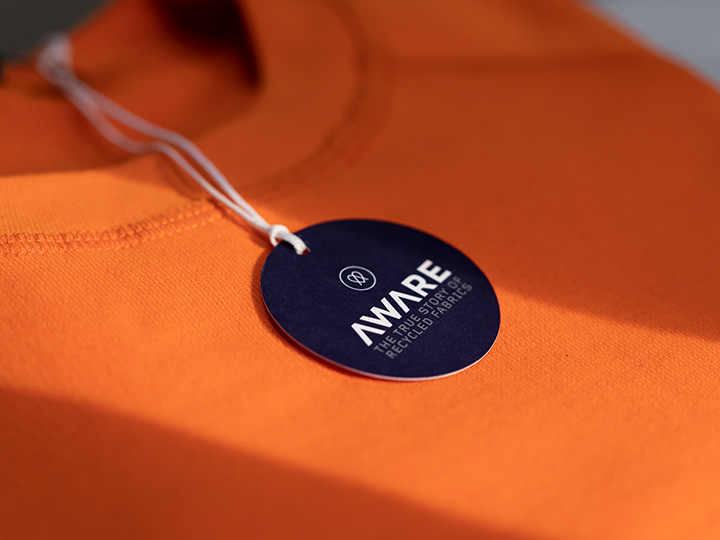 The process works with several carefully selected partners adding the patented AWARE™ tracer material into the original raw recycled cotton. A virtual representation of the yarn/fibre is then created as a digital token and stored on a decentralised and open-source blockchain. Brands can now use the yarn in the same way as any other raw fabric. Unlike other fabric, the final product can be scanned at the end of production to confirm it's made from the original certified recycled materials.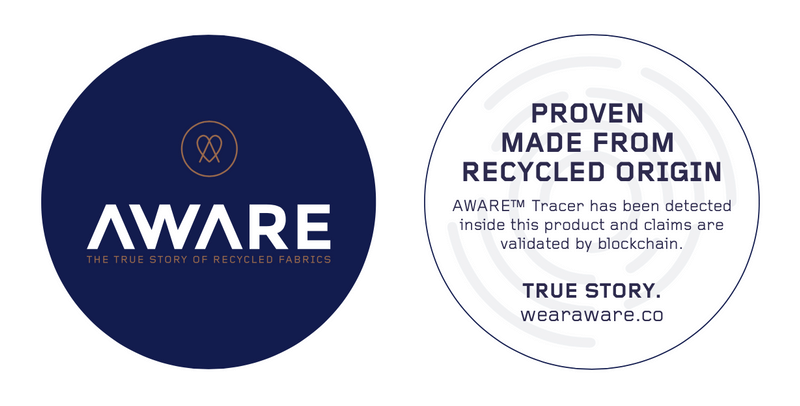 With AWARE™ integrity technology embedded in authentic, sustainable materials, textiles brands and retailers have the freedom and flexibility to produce products with their own compliant and nominated supply chain partners and prove sustainability claims to consumers.
"Trust is good in sustainability, but we prefer facts and verification. For all our sustainable brands we proof genuine sustainable content and environmental impact reduction claims. No greenwashing, but real transparency based on certified and verified data."  Feico van der Veen, Founder, The Movement and the Aware brand.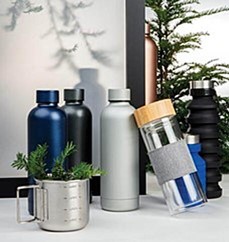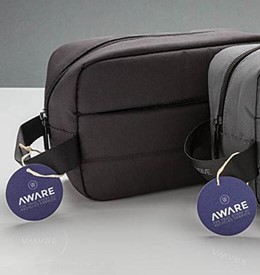 This collection covers a wide range of fabulously styled bags, rucksacks, shoppers, umbrellas, caps, water bottles and books made from recycled rPET and cotton along with stainless steel and glass.
To find out more about traceability, how we make sure our ranges are ethically produced, our sustainable products or the Impact range using AWARE™ tracer technology contact us here.