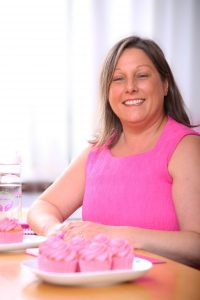 Name: Becky Fleury
Title: Client Service Director & Head of Compliance
What is your role at The Sourcing Team?
"As client service director I am working with our key account clients to continuously add value working with our team to deliver excellence.  Part of my role is ensuring product compliance and working with our supply partners on auditing, working on corrective actions and of course being our clients brand guardian, aka "brand police".  "
Bit of background about you?
"I have been with the business since Gill our CEO set up the business in 1996 where I joined as a secretary.  Since those very early days, I have learnt so much.  Moving into supporting client service and later becoming an account manager.  I've built expertise in project management, quality control, brand guardianship, factory auditing and client service.  As client service director I support our great client service team and working closely with our key account customers on developing campaigns and projects for concept to execution.
I am also IPM (Institute of Promotional Marketing) certified. "
What do you particularly like about working at TST?
"Every day is different, and I love it!  Working with our amazing clients and continually keeping ahead of the changing market and client demands that fit all our values.  I feel proud that as a team we really do know our stuff across all our key values.   And of course, the people in the business – we are a great team. "
What's your favourite Promotional Product and why?
"Currently, my pink TST Rio coffee mug - keeps my coffee nice and hot on the go! "
What is your favourite pastime?
"I enjoy cooking, spending time with family and friends.   My little apprentice chef (my 5-year-old) loves cooking with me!"