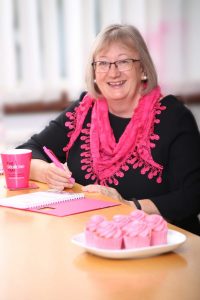 Name: Sharon Childs
Title: Finance Director and Head of Sustainability
 What is your role at The Sourcing Team?
"My main job is keeping the day to day finances flowing, I am also very involved in our sustainability programme as well as dipping in and out of HR and Legal!"
Bit of background about you?
"I started my career in banking and then worked for the NHS in finance before becoming a full-time mum. I re-entered the workplace at The Sourcing Team and the role has expanded over the years to include driving our sustainability which I am very passionate about!"
What do you particularly like about working at TST?
"The team spirit and the opportunity to dip in and out of several areas. Love finding sustainable solutions to problems."
What's your favourite Promotional Product and why?
"The recycled coffee cup – still a winner after several years and now finally in its rightful place and used in coffee shops up and down the country."
Name someone who inspires you?
"My mum – who has always worked hard and stayed positive despite several curveballs along the way."
What is your favourite pastime?
"I enjoy time with my family, walking and being outdoors and supporting Crystal Palace Football Club as a season ticket holder – that last one is not very relaxing!"