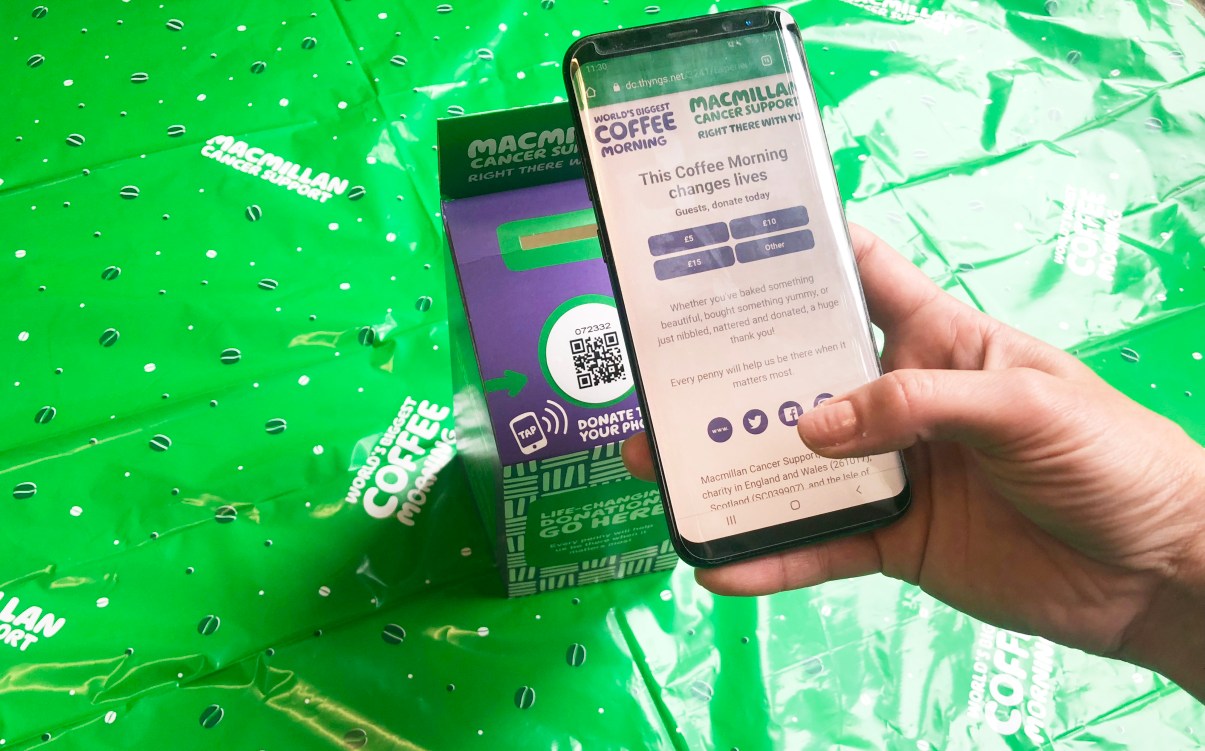 The Sourcing Team are delighted to work with Macmillan Cancer Support to include cashless giving mechanism within a large proportion of fundraising kits for World's Biggest Coffee Morning – providing a low cost, scalable mechanism that can be used to offer cashless giving at supporters' own events.
The Macmillan Coffee Morning is an annual event which started in 1990 that sees more than 200,000 people take part, raising £26, 914, 382 in 2018 alone.
With the growth in cashless transactions and the growing number of people using no or little cash Macmillan want to give supporters the added option of donating via an alternative route to cash at their Coffee Mornings.
While cashless technology is available the challenge was finding a viable and cost-effective route to add this to supporter fundraising kits to be used to host Coffee Mornings run in a variety of locations such as offices, homes, clubs etc without having to invest in expensive contactless systems.
The Sourcing Team working with their technology partner, Thyngs, introduced this cost-effective mechanism that could work within the kits. NFC tags have been added to the existing card collection box which converts the box into a cashless donation point.
Hosts register their own Coffee Morning via the NFC tag once their pack arrives. Guests at the event then tap the NFC tag to bring up a donation page on their smart phone to select their donation amount. The platform also allows supporters to add Gift Aid during the transaction increasing the overall donation amount. The mechanism is also supported by an engagement and analytics programme to give full visibility of results by each hosted event in real time.
Abby Solomon, Senior Marketing Manager, at Macmillan says: "We're very excited to be able to test this new technology on our Coffee Morning kits for the first time this year. We simply cannot support the growing number of people with cancer without generous donations from our supporters and this technology will give them an additional way to donate. Working with The Sourcing Team and Thyngs, who understand the importance of offering cashless giving and the opportunities this technology presents, will help us reach more people and make this year's World's Biggest Coffee Morning a huge success." 
Gill Thorpe, CEO of The Sourcing Team said, "The Sourcing Team have been working with Macmillan for over 18 years providing ethical, sustainable and innovative promotional merchandise. Our partnership with Thyngs allows us to bring exciting new technologies that enable low-cost cashless giving to be brought into supporters' homes and places of work. This innovative technology should help Macmillan build on their hugely successful coffee mornings and open out the cashless giving opportunity to increase overall donations" 
This is a first in terms of the scale and ability to add a cashless mechanism to an event pack mailed to supporters' homes, offices and organisations. With this fantastically flexible and affordable technology we can add cashless giving mechanism to our sustainable and ethical merchandise being used at any number or type of events – there are countless opportunities to use this technology to drive donations, engagement, interaction and much more…
If you would like to know more or see a demonstration
We would be delighted to demonstrate this in action - how tags are incorporated, take you through the donation journey, Gift Aid, how this is tailored to each charity, what interactions can be built in apart from donations, what the platform could provide along with entry costs and timelines for a test.
To book a demo or to find out more please fill in the details here and we will get back to you.
Here are some shots of our Macmillan Coffee Morning at our office