The outdoors events season is here, and it offers great opportunities to host/attend events that will create long lasting brand impressions and increase your brand visibility and exposure. If you have an event coming up then by using some cool event branded items you can ensure you get brand recognition. Each event you participate in represents a huge opportunity to network, grow leads and further build your brand presence. We have participated in several events and, as a promotional products supplier we understand how important branding is to your event, for your marketing strategy and driving further engagement.
Here are 11 cool ideas how you can brand your merchandise for an event.
Promotional signs and banners can be used for both indoor or outdoor events. Advertising on banners is perfect as it allows you ample space to get your message across. It's also important to design well to ensure your message is clear and understood.
1) Custom retractable banner stands
Promotional roller banners have numerous benefits.
Indirect Marketing – Direct marketing can be a turn-off for many people, putting up pull up a custom retractable banner stand can be an easier way to introduce your products to prospective leads without scaring them with your marketing pitch.
Flexible – Pull-up banners are light, easy to install and move. They are considered a good method to add to your marketing strategy.
Eye Catching – A well designed banner can really catch somebody's attention from afar.
2) Custom gazebo canopy
It's a good branding opportunity and a onetime investment! These collapsible gazebo canopies are generally very durable and flexible enough to be used repeatedly. So, investing in one will ensure that you can use them for life. These custom gazebo canopies are generally UV resistant and 100% waterproof, making them ready to face any kind of weather attacks. One can never predict weather in the UK!
3) Cafe barriers and posts
Cafe barriers and posts are an innovative way to showcase your business for marketers, entrepreneurs or business owners. Café barriers are small, light, easy to assemble and easily transportable. One can see a lot of cafe barriers and posts at festivals, road shows, exhibitions and trade shows. One can use them as a tremendous marketing opportunity to use company logo or custom marketing message.
4) Promotional personalized deck chairs
Do not assume personalized deck chairs are meant only for summer events. With a huge branding area these promotional personalized deck chairs, can be used to brand your event at any time of year. Perfect for seated audience situations, casual gatherings or at an event. A great, eye-catching display solution for your brand.
5) Outdoor promotional flags
We have seen them everywhere local charity events, craft fairs, tradeshows and exhibitions. Why not use outdoor promotional flags to your benefit by custom printing with your company logo/marketing offer or message?
6) Table drapes for trade shows
If you are planning to attend few trades shows this year, we would advise adding table drapes / table cloths to your promotional branding toolkit. Help your company to stand out from the crowd and have a professional finish to your table. You can choose either a standard printed table cloth or stretch table cloth depending on your budget.
7) Cube seats and Branded Bean Bags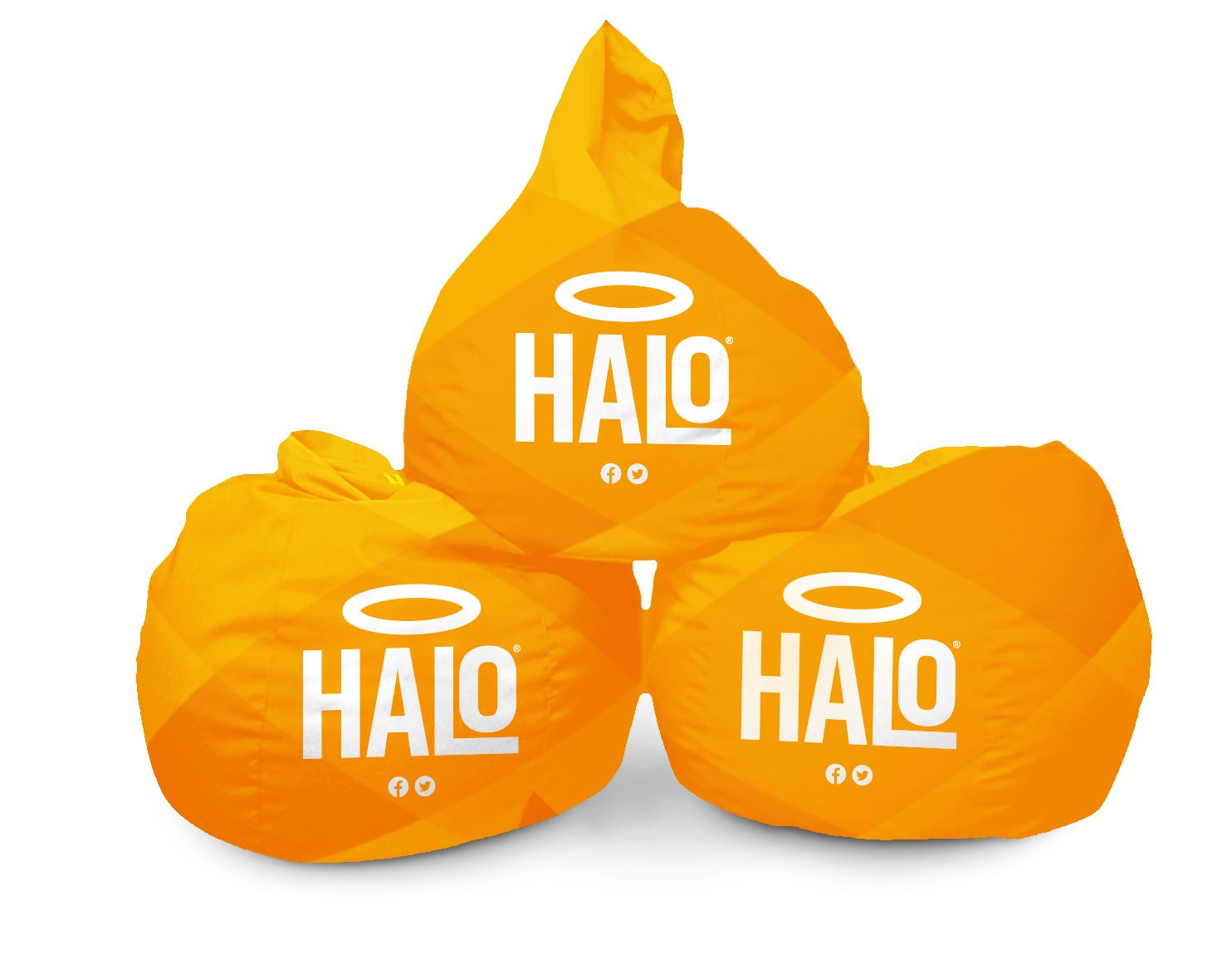 Cube Seats and Branded Bean Bags offer an alternative style of seating and are ideal for exhibitions, schools and retail environments. They are also a great way to promote your business by printing graphics onto the cover.
8) Everything edible
You can brand everything from cakes, cookies, cupcakes, mints, chocolates etc. Good attractive looking branded confectionery on the table might prompt attendees to take pictures and post it on social media. Plus of course, they taste yummy!
9) Unique swag items
Wiki defines Swag as "a slang term used to describe free stuff and giveaways offered by vendors at trade shows to encourage attendees to visit their booth. Swag is usually company-branded merchandise and is given away as a form of advertising."
So why should you have a goodie bag included in your event branding ideas? It's a known fact that giving away branded logoed products is the best and most cost-effective form of advertising. You can read our blog post on promotional freebies ideas here.
10) Staff uniforms
Not to forget your brand ambassadors at the event, your staff. Make sure you have custom printed clothing merchandise ready for your events that will be worn by your colleagues/staff at the event.
11) NFC enabled Event badges
We cannot reiterate enough how important it is to use our NFC technology on your promotional marketing materials moving forward. Your team can wear branded lanyards with NFC digital business cards – no need for event apps, simply tap and download event details direct to your phone and you can ensure your visitors download and save all your business card details simply by tapping our NFC enabled materials.
Now that you have got some ideas for custom promotional products why not speak to one of our expert account managers to find out how promotional products can really bring value, awareness and engagement for your next event or exhibition? Call the team on or, email hello@sourcing.co.uk and they can help you fast track to the best solutions and provide design support too.
All with the added benefit of knowing that we only working with ethically approved suppliers and we have way ahead of the game on providing environmentally friendly and sustainable merchandise.
We distribute across the UK and internationally.  Why not let us do all the leg work by visiting our Let's Get Started page we'll help you make your event branded merchandise bring your brand and offering to life!